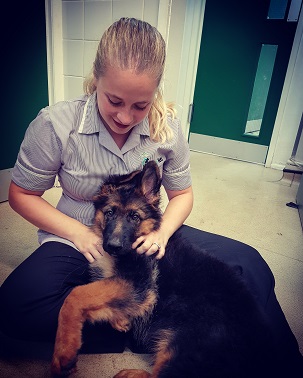 At Greenbay Vets Registered Veterinary Nurses (RVNs) work alongside our veterinary surgeons in order to provide a high standard of care for animals.  As with any worthwhile job, the training required takes time, hard work and commitment.
We currently have four Student Veterinary Nurses working with us, who alongside their work with us attend college/university and have to complete various assignments, exams and a case log to enable them to qualify and register with the Royal College of Veterinary Surgeons.
One team member, Laura Holderness, has shared some thoughts on life as a Student Veterinary Nurse as we celebrate Veterinary Nursing Awareness Month.
"I have been a Student Vet Nurse now for a little under a year. My favourite part of the job is seeing an unwell animal progress to becoming fit and well and having updates from their owners on how well they have "bounced back". Our job can be extremely saddening and at times, behind the scenes, we'll often become particularly close to our patients, meaning it hits us hard when they don't make a recovery. In an ideal world, we could fix every animal that walks through our doors, but unfortunately that isn't always the case. However, we all try our hardest to make that happen. I treat every animal/patient as if they were my own. Some days we may have a nervous dog in and I will often sit with them and reassure them, this means sitting in their kennel with them whilst they look at you anxiously. Quite literally, I am holding their paw to make them feel better."
Laura Holderness, Student Veterinary Nurse at Greenbay Vets in Torquay and Paignton
You can read more about the amazing work of an RVN in our blog post from last year.