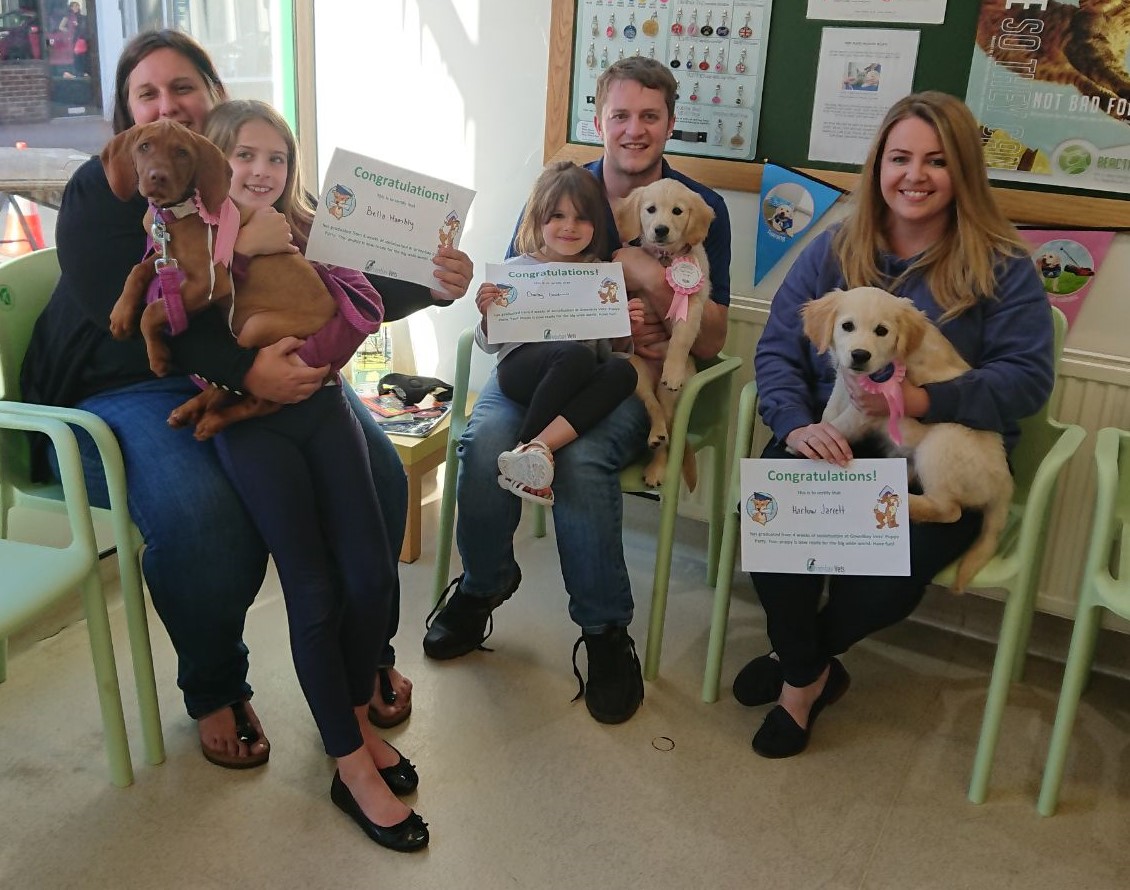 Working in a veterinary practice means there are a lot of opportunities to observe a number of different aspects when it comes to your pets. One thing we pride ourselves on the most is how your pet feels when they are in our practice, making sure they are as relaxed as possible. After all, a happy pet makes for a happy patient. Recently, our Student Veterinary Nurse, Laura Holderness, who has a keen interest in canine behaviour, has been working on upgrading our weekly puppy parties with a whole new structure.
Puppy owner, Kelly Jarrett, said of our new parties "Harlow, our 11-week-old Golden Retriever, has really benefited from attending the puppy classes, thank you! From a shy, timid puppy at the start around new dogs, she is now confident and playful. It was lovely for her to interact and play happily with other puppies the same age.  Her tail wags when approaching the vets following 5 hours of pure playtime. The staff who run the puppy class were friendly, fun, engaging & knowledgeable. We picked up lots of tips through the weeks & were able to ask for advice about anything puppy related! This was invaluable! I'd highly recommend Greenbay if you have a pet but especially a young puppy."
Our puppy parties are held weekly at our Torquay surgery on Wednesdays at 5.30pm. In the past, puppies would arrive, be unclipped from their lead and be free to explore the reception area and make new friends with other puppies. However, on some nights this becomes a little crazy, especially if there are multiple owners who want to ask questions, as there was too much distraction. So we decided that we would revamp our parties and create a new structure entirely. 
The new structure took a while to get together because it was important that it was done correctly with attention to detail, so that it could be as successful as we hoped it would be. Although still named puppy parties, we like to call it puppy socialisation school.  So what is different? Firstly, all clients with new puppies will get their very own Puppy Party invitation in the Greenbay welcome pack and will be informed of what to expect. When they arrive to their first class they will be marked as being present on the register, this means that our nurses are able to identify your pups in the future.
Each puppy has 10 minutes 1-1 with either a Registered Veterinary Nurse or a Student Veterinary Nurse and each week you will discuss a new topic. Topics include toilet training, socialisation, recall training, dental care, etc. The great thing about a 1-1 is that it gives you the chance to answer any questions you may have about anything to do with your new pup. This 10 minute 1-1 takes place in our consult room on the consult table where they are weighed each week and on a blanket with Adaptil spray sprayed onto it. Adaptil spray is a natural pheromone that mother dogs produce when their pups are in their litter. This helps to relax and appease them and try to alleviate any anxiety they may have. The purpose of this is to hopefully desensitise them from feeling scared about being in a consult room on a table.
The school for each puppy lasts for five weeks; you'll receive a mini information pack with leaflets added each week after each discussion. After their 1-1's the pups then spend the rest of their time playing and interacting with puppies, learning to socialise and having fun in a veterinary environment. As we like to think of it as a school, this means that at the end of their five weeks they will receive a little congratulatory rosette and will be given the chance to show off any commands they have learnt throughout their early weeks at home.
Our new structure is now fully into practice so as long as your puppy has had their first vaccination and you have their vaccination card to prove this, come along and see for yourself. We look forward to meeting you and your new family members.