We love living in Torbay and feel it is important to be part of our local community.
For the 2019/2020 season we are sponsoring Torquay Rugby Club.
We have a close relationship with Torbay Coast and Countryside Trust due to the proximity of our Torquay surgery to Cockington Country Park. We loved attending Cockington Dog Day during the Cockington Green Heart Appeal, and the last few years have put on a free dog first aid talk with them.
We try to support local good causes e.g. the charity auction at the Walnut Road Street Party and in have also donated prizes for Stoke Gabriel Pre School raffle and made a donation towards White Rock Primary School's defibrillator fund. In 2017 our team and their dogs raised money for Animals in Distress and Devon Air Ambulance on a sponsored walk.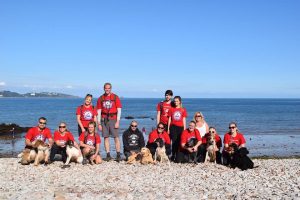 We respect the wider community that we have an impact on and as such we have made efforts to recycle as much as we can, changed our lighting to more efficient LED bulbs and stock Fairtrade tea, coffee and sugar in our staff kitchen. Vet, Laura, has recently become a member of the British Bee Veterinary Association and hopes to learn more about how vets can help the country's struggling bee populations.
We are keen to promote responsible pet ownership and to inspire the next generation of vets and veterinary nurses. To this end we have been in to White Rock Primary School and Roselands Primary School in Paignton, and Churston Ferrers Grammar School to talk to the children. We also frequently have students with us on work experience placements.