We love living in Torbay and feel it is important to be part of our local community, and to look after our wider world.
We are excited to be collaborating with Shoreline Paignton in 2021, providing dog health tips to their Canine Club members! We also kicked off the new year by sponsoring one of the sessions of Woofstock's Yap-a-thon, which raised a fabulous sum for local charity Animals in Distress.
Since 2019, we have sponsored Torquay Rugby Club, who play just down the road from our Torquay surgery.
We have a close relationship with Torbay Coast and Countryside Trust due to the proximity of our Torquay surgery to Cockington Country Park. We loved attending Cockington Dog Day during the Cockington Green Heart Appeal, and providing free canine first aid talks to support the appeal.
We try to support local good causes e.g. the charity auction at the Walnut Road Street Party and have also donated prizes for local raffles and made a donation towards White Rock Primary School's defibrillator fund. In 2017 our team and their dogs raised money for Animals in Distress and Devon Air Ambulance on a sponsored walk, and in 2021 we hope to enter a team into the Dartmoor Classic Sportive to raise money for charity, restrictions permitting.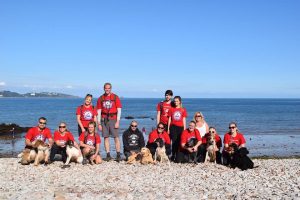 We respect the wider community that we have an impact on and to this end we created a Sustainability Plan in January 2021.
We have a number of things already in place:
Switching to a green electricity tariff, and to more efficient LED lighting
Recycling paper, tins, plastic, card, glass and batteries
Moving towards paperless e.g. electronic receipts, lab results, pet reminders and insurance claims
Making use of the 'cycle to work' scheme
Learning how to help bees via the
British Bee Veterinary Association
We know we still have a long way to go, and will keep you updated on our progress!
We are also keen to promote responsible pet ownership and to inspire the next generation of vets and veterinary nurses. To this end we have been in to White Rock Primary School and Roselands Primary School in Paignton, and Churston Ferrers Grammar School to talk to the children. We also frequently have students with us on work experience placements.