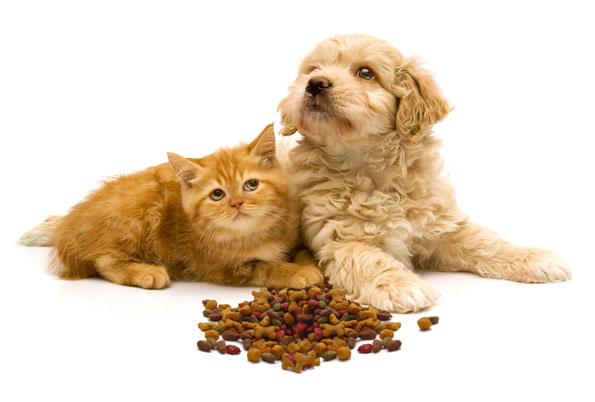 Why is nutrition important?
The simple answer is, for the exact same reasons as why our own nutrition is important. Providing good nutrition for your pet provides their body with everything they need. Feeding them the right kind of diet allows them to grow, heal, work and live happily and healthy. Feeding a good quality diet can even prevent them from developing or delay the progression of some diseases.
What should I feed my dog or cat?
You should provide your pet a complete and balanced diet. The easiest way to do this is to feed them a complete commercial diet. They come in a variety of dry and wet forms to fit your pet's preferences and needs. All foods in the UK should meet FEDIAF (European Pet food Industry Federation) requirements. Most widely available pet foods are made by members of this organisation via PFMA – the pet food manufacturing association, who are the UK branch. Some small and independent companies may not be. What this means is that their diets may not contain everything they should in the amounts recommended. You can find information on what FEDIAF recommend being included in diets as well as a list of UK pet food members on their website. The pet food industry is a lot more regulated than people think.
Where to get advice
Finding the right diet for your pet can be a bit of a minefield. Finding advice from a reliable source can be difficult. Unfortunately, the title 'Pet nutritionist' isn't a protected title. What this means is that anyone can call themselves a pet nutritionist regardless of their qualification and knowledge. Most pet food companies use someone who has a formal qualification (usually to PhD level) and/or is board certified by the European college of veterinary comparative nutrition. The easiest way to get reliable advice is through your veterinary team. They have training in pet nutrition and access to seek advice from those more qualified than themselves.
At Greenbay, RVN Laura Sproul is our Nutrition Advocate. Laura is available to our clients for complimentary telephone calls and email nutrition advice – feel free to give us a call, drop us an email on info@greenbayvets.co.uk or, if you are in to see the vet and would like to follow up more on nutrition, just let the vet know and they will pass this on to Laura.
Types of dog and cat food
There are several different types of diets, but they generally fall into three categories:
Dry – this is a kibble-based diet, usually made from dehydrated or cooked ingredients formed into a dry biscuit. This makes it easy for storing and feeding, reducing mess. Being dry also reduces the risk of spoilage.
Wet – wet pet foods come in a variety of formats from chunks in gravy to pate style. They, like dry foods, are cooked or dehydrated ingredients. The only difference is that they have moisture re-added to them. They can be more appealing to some pets. The downside to wet foods is that they spoil easier than a dry food.
Raw – raw diets are made from uncooked ingredients. They come in a huge range of formats. The most important thing with raw diets is that they are stored and handled correctly. They have a higher risk of containing bacteria that can cause food poisoning in your pet and you too.
They can be fed exclusively or in combination. Always check the packaging of your food to make sure it's a complete diet.
How best to feed your pet dog or cat
It's important to feed your pet following the guideline set on the packaging e.g. feeding for the correct age of pet, or by your veterinary team. Your pet will have a recommended daily allowance of food (usually given in weight), although pet food guidelines on packaging can often be a little generous so it's important to watch your pet's weight and general health and adjust to fit their needs.
Dogs generally do better being fed set meals, but some dog like to graze throughout the day. As long as they have their daily allowance over the course of the day this can be fed in any way.
Cats tend to prefer to be able to graze, leaving their food down throughout the day tends to suit them better. It's recommended to weigh their daily amount out in the morning and then allow them to eat it over the course of the day. Continually topping up when they have finished can cause over feeding.
Whichever diet you choose for your pet make sure to always have fresh water available. We recommend always feeding them following the guidelines and advice from your vet team.
Feeding your pet rabbit
Fibre is essential for rabbits. Good quality hay and/or grass should make up the vast majority of a rabbit's diet (about 85% of what your rabbit eats) and should be available all the time. This is key to preventing dental problems, as a rabbit's molars must be kept worn by chewing, and to keep the gut functioning properly.
Rabbits can also be fed some quantities of washed green leafy vegetables e.g. cabbage, broccoli and kale (about 10-15% of what your rabbit ears). A very small quantity of concentrate food (1-2% of what your rabbit eats) can also be offered to your rabbit, but this is best reserved to offer as a treat. Muesli-style rabbit foods are not advisable as the rabbit will selectively eat certain bits resulting in an unhealthy diet. Good quality pellet style foods are preferable.   Carrots and apples should only be occasional treats.
The team at Greenbay are more than happy to help you with any questions you have about your pet's food, or how best to feed them.
One of our Registered Veterinary Nurses, Laura Sproul, has done further study in the area of nutrition. You can read more in depth information in her series of nutrition blogs:
Useful links:
https://wsava.org/wp-content/uploads/2020/01/The-Savvy-Dog-Owner-s-Guide-to-Nutrition-on-the-Internet.pdf
https://wsava.org/wp-content/uploads/2020/01/Selecting-the-Best-Food-for-your-Pet.pdf
We stock Hills Prescription and Vet Essentials diets – for more information, click here.