Rabbits and guinea pigs are the next most common pets we treat at Greenbay Vets, after dogs and cats. We also have visits from rats, mice, hamsters, gerbils, ferrets, tortoises, lizards, birds and occasionally more unusual pets!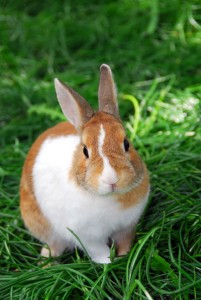 As the 3rd most popular pet in the UK there is now lots of excellent health information out there for rabbit owners. We offer annual vaccinations for pet rabbits against Myxomatosis and RVHD (including the new variant RVHD-2). We also offer health checks, nail clips, neutering and rabbit dentistry.  Every June we offer free rabbit health checks in support of Rabbit Awareness Week. You can read more about how to keep your bunny healthy in our fact sheet.
The British Veterinary Association and Animal Welfare Foundation has produced some excellent leaflets covering care of rabbits, guinea pigs, ferrets, and chickens.  For advice about caring for these or any other pets, don't hesitate to speak to our team.
We have invested in special dental equipment for rabbits and rodents for whom dental disease is a common problem, and are pleased to now have a separate hospitalisation area for rabbits and exotic pets at our Torquay vets surgery. This means they can be housed away from dogs and cats if they come in for an operation or have to stay with us for a few days.  This ward includes a vivarium, so we can better cater for the needs of tortoises or small reptiles.