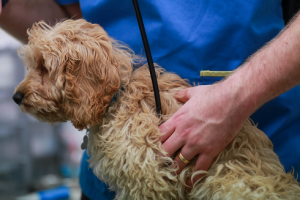 Our vets have a range of special interests and diagnostic equipment available. We pride ourselves on taking the time to treat your pet as an individual and discuss their problems as a team to ensure the best outcome. We believe in continual investment in facilities and staff training.
We have modern digital x-ray at both our Torquay and Paignton surgeries, and a full colour Doppler ultrasound machine at our Torquay surgery, to enable us to investigate what is wrong with your pet.  Images taken are seamlessly linked to your pet's computerised records. We also have an ECG machine for investigating abnormal heart rhythms.  We can monitor a patient's blood pressure and are able to run most laboratory tests such as blood tests at both our Torquay and Paignton surgeries, with results available the same day. For other tests we have a daily courier service taking samples to an external laboratory for analysis and comment by specialist vets.
In 2017 we invested in a set of the latest top-of-the-range video endoscopes for our Torquay surgery.  This allows us to perform a number of procedures which will improve our abilities to diagnose problems in your pet:
Endoscopy of the stomach, small bowel and colon.  This means we can look inside these organs, for example to view a stomach ulcer.  It also means we can take biopsies in a minimally invasive fashion, rather than doing open abdominal surgery.
Bronchoscopy – this means looking inside the airways of the lungs.  This allows us to diagnose certain conditions e.g. tracheal collapse in small dogs and grass awn inhalation.  It also allows us to get samples of airway fluid to enable us to get a diagnosis in cases of chronic coughing, for example.
Cystoscopy – this means looking inside the bladder.
Rhinoscopy in dogs – this is looking inside your pet's nose, which is of great value when trying to get to the bottom of chronic sneezing and/or nasal discharge.
Otoscopy – this is looking inside your pet's ear(s); video otoscopy is gold standard for full evaluation of ear disease and flushing of the ear.
Very occasionally, we will recommend referral of your pet elsewhere for specialist diagnostics e.g. a brain scan.
We will happily provide an estimate as to the probable costs of investigations and treatment, but please bear in mind that animals do not always follow the textbook so an estimate can only be approximate. We will endeavour to keep you informed as to the costs of your pet's treatment.