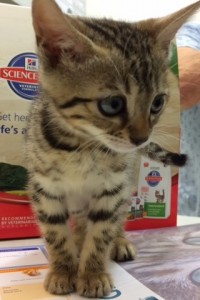 Getting a new puppy or kitten is an exciting time! It can also be tiring and overwhelming, trying to make sure you are doing everything right. We are here to help you.
If you are thinking about getting a new puppy or kitten, check out our fact sheets first on choosing a dog or choosing a cat.
Puppy/kitten starter packs
When you bring your puppy or kitten to us for their first vaccinations, we want to ensure they have the best start in life.
Included in our puppy/kitten vaccination price is the following:
• 30-minute appointment with a vet for the 1st vaccination
• 15-minute appointment with a vet for 2nd vaccination
• Hills Vet Essentials food starter pack and voucher booklet
• Complimentary worm, flea and tick treatment for kittens, in the form of a spot-on
• Complimentary flea and tick treatment for puppies, in the form of a flavoured chew
• 4 weeks free pet insurance with Petplan
• 15-minute consultation with a vet when your puppy or kitten is about 5 months old for a check-up and to discuss preventative health care
We also offer FREE monthly nurse checks once your puppy or kitten has completed their vaccination course.  These can be used to weigh your puppy and kitten, to check they are growing well and to allow accurate dosages of wormer to be dispensed.  They are also a great chance for your puppy or kitten to get used to the surgery and have a cuddle and a treat, rather than an injection!
Not all vaccines are the same, and we keep a close eye on the latest developments to offer the best protection to your new family member.  In dogs this means protecting against all strains of Leptospirosis that can currently be vaccinated against ('L4' vaccination); we can order in 'L2' if requested.  In cats, we make use of the latest vaccine technology so our vaccines do not contain 'adjuvant'; this should mean less pain and inflammation at the site of injection.  For more information about vaccines see our fact sheets; the vet will also be happy to discuss any queries with you.
Prices (January 2019)
Kitten vaccination course with feline leukaemia virus vaccine £70.80
Kitten vaccination course without feline leukaemia virus vaccine £51.30
Puppy vaccination course without kennel cough vaccine £63.76
Puppy vaccination course with kennel cough vaccine £83.65
If your puppy or kitten has had their first vaccination with the breeder, please let us know when booking and we will make sure you get 30 minutes with the vet when you come in for the 2nd vaccination.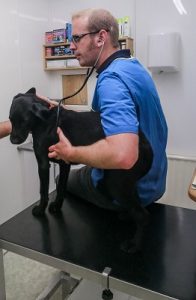 You will get a welcome pack with information at your first visit, but in the meantime you can check out our puppy and kitten fact sheets here. Please phone us at the surgery on 01803 606059 to book, or to find out more.
Puppy Parties
These are held every WEDNESDAY at our TORQUAY branch between 5.30pm-6.30pm and are great fun for both puppies and their owners! Our puppy parties are free to attend.
All puppies are welcome to come along after they have had their first vaccination. If your puppy has had their first vaccination at another practice, then you are more than welcome to come along – just bring your vaccination certificate.
We give you advice on:
Feeding your puppy correctly
Worming and flea treatment
Toilet training
Basic manners and training
Grooming
Dental care
Socialisation with other puppies and humans
All puppies and owners now also benefit from 1:1 time with one of our nursing team during the party. This allows the puppies to get used to coming in to the consulting room and allows for personalised advice to be given. For more information check out this blog article.
To see more photos of puppies enjoying our puppy parties check out the album on our Facebook page.