At Greenbay Vets we believe in helping you to prevent illness in your pet – regular health checks, excellent parasite prevention and vaccinations are key to this.
Already spoken to a team member, and ready to sign up? You can now join online here.
By joining our Complete Care Club you can spread the cost of looking after your pet and receive discounts on specified products and services.  You can join our club as a Bronze, Silver or Gold member depending on your pet's requirements, and a choice of parasite products is available within the scheme to suit your pet's lifestyle and personality. We were pleased to introduce home delivery of flea/worm treatment as part of the club in August 2021.
Since launching the scheme in 2015 our Complete Care Club has grown to include over 700 dogs and cats, with many owners appreciating the ability to spread the cost of the annual booster vaccination and parasite prevention products.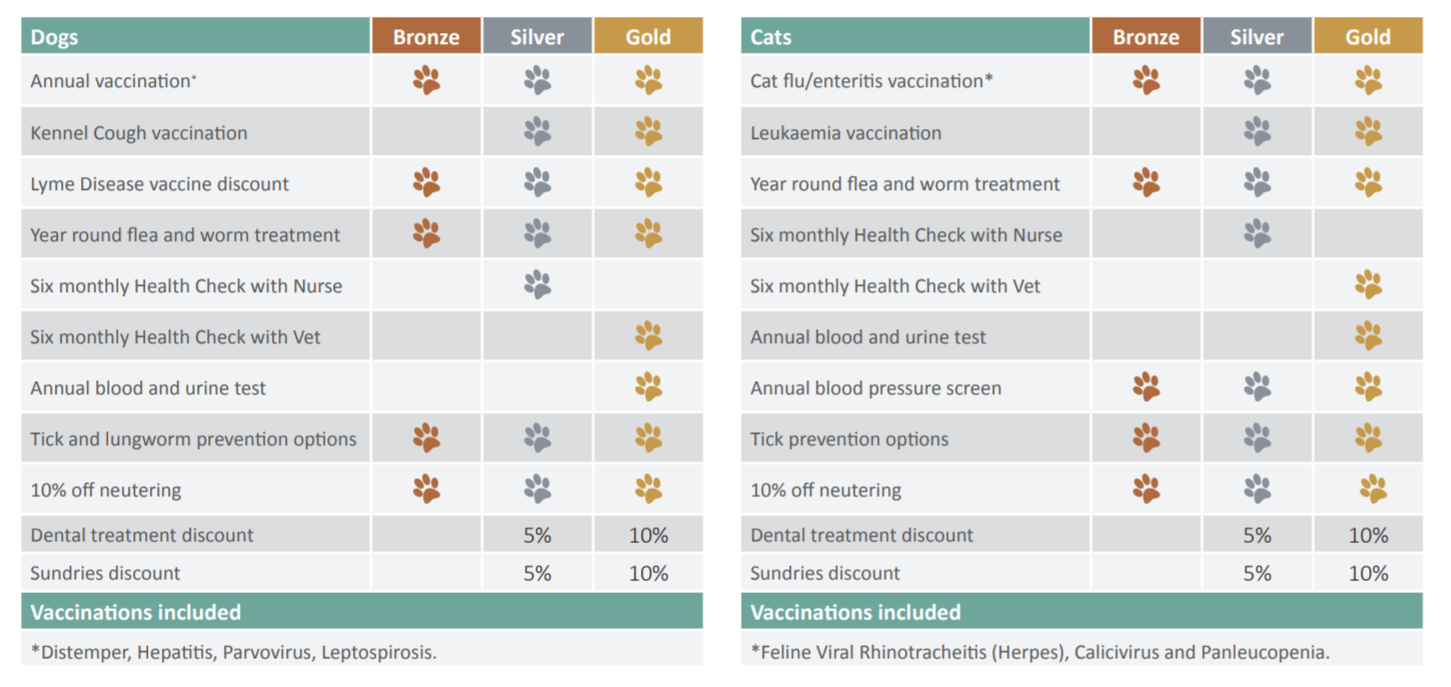 Bronze membership includes the basic annual vaccination and your pet's routine worm and flea treatment; products are available to ensure your pet is also covered against ticks and lungworm.  Silver membership, our most popular category, adds in kennel cough vaccination for dogs, leukaemia vaccination for cats and a 6 month nurse check.  Gold membership includes a 6 month check with the vet and a blood and urine screening test, so is a great option for our senior patients.  All members receive a 10% discount on neutering, and silver and gold members also benefit from discounts on dental procedures.  We also include an annual blood pressure check for all cat members – find out why here. Payment is made by monthly direct debit.
PRICES – EFFECTIVE FROM JANUARY 2022
These prices include home delivery of your pet's flea and worm treatment . If you would prefer to collect your treatments from us (price difference is £1.80/pet/month), this is still an option.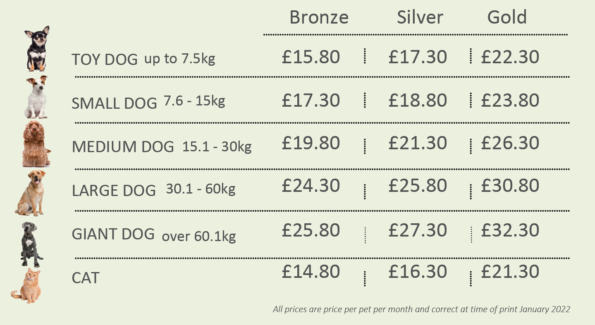 Home delivery is available as a sign-up option online for pets at a stable weight (minimum age 9 months). If you are already a member and would like to upgrade to the home delivery option, please speak to a member of our team.
You can download our leaflet here, or pick one up in the practice.
TO JOIN ONLINE CLICK HERE, ALTERNATIVELY YOU CAN JOIN IN THE PRACTICE.