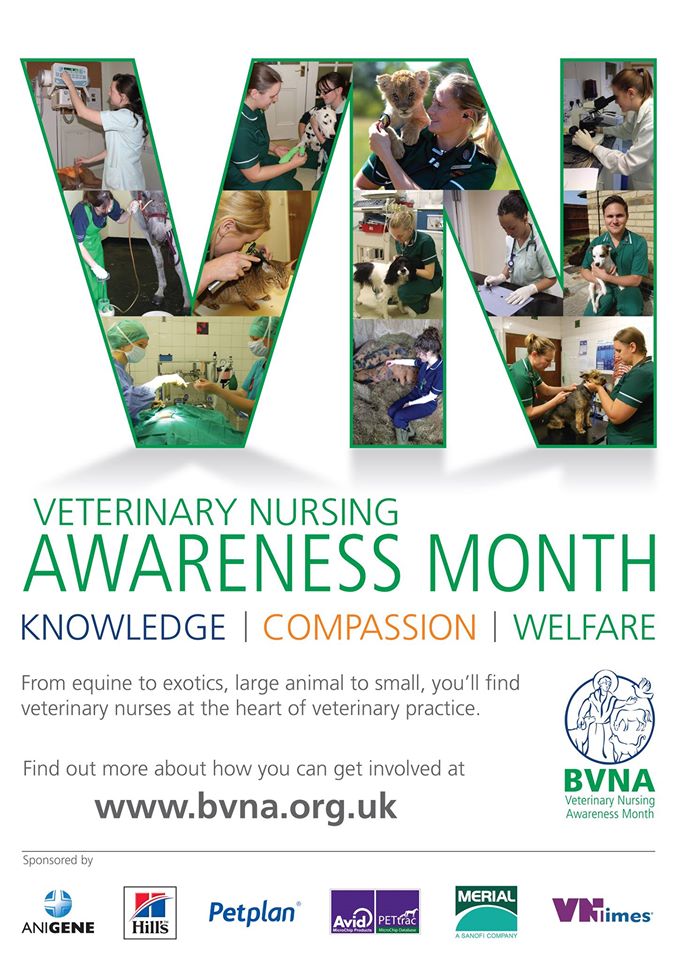 May is National Veterinary Nurse awareness month. At Greenbay Vets we have a fantastic team of nurses and this is a great opportunity to recognise the amazing job that they do. Our qualified nurses include head nurse, Caz; cat advocate, Claire; and Zoe, who heads up our nurse clinics.  We also train the nurses of the future, with Steph who has recently qualified; Laura S currently in training and Laura H starting her training in September.
The list of duties and responsibilities of a veterinary nurse is end-less, but here are some of the things they get up to:
Preparation for operations and anaesthesia – our patients are prepared for, and monitored throughout surgery by a nurse. The nurses are trained to monitor various parameters during anaesthesia, such as heart rate and blood pressure, and to report any concerns to the veterinary surgeon.
Assistance with x-ray, ultrasound and endoscopic examinations.
In-patient care – any patient staying with us will be kept comfortable, observed and monitored by our nursing team.  Nurses are trained in placing intravenous catheters and taking blood samples.
Lab work – all nurses are fully trained to run haematology and biochemistry blood tests in-house.  They may also need to look at samples under the microscope.
Nurse clinics – our nursing team run successful weight clinics, and also offer a variety of other clinics such as older pet screening, arthritis/mobility and dental check appointments.
End of life care – there will usually be a nurse present if the time comes for your pet to be put to sleep. They assist the vet to try to reduce any stress for your pet and are also available to support you as the owner.
Reception work – all our nurses spend time on reception greeting clients and dealing with queries by phone or in person.
Out-of-hours work – our nurses are on a night and weekend rota, meaning they may have to come in to check on patients or get called in to help the on duty vet with an emergency.
The nurses are also responsible for cleaning and maintaining the clinical areas, sterilising equipment and ordering stock.
Nurses need to undertake continual training and development and at Greenbay Vets we encourage our nurses to go well beyond the minimum requirements. Our head nurse, Cazandra, is enrolled at Harper Adams University to study for her Diploma in Advanced Veterinary Nursing, and our cat advocate, Claire, is enrolled for her Diploma in Feline Nursing.
You can read more about our fab team here.