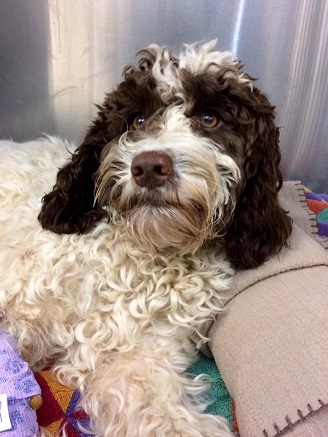 Lottie was visiting Torquay with her owners and had just had a lovely run on the beach and a swim in the sea. Just as she was supposed to jump into her owner's car she saw a bird she couldn't resist chasing! Unfortunately this took her across the road into the path of a car…
Lottie's owners rushed her to us as we were the closest vets the owners knew of. Vet, Dr John Mather, immediately assessed her and his examination found her to be unable to stand on either back leg, in extreme pain in her left hind and showing early symptoms of shock. We admitted Lottie to start her on a drip to improve her circulation and also gave Lottie some strong pain relief to help her feel more comfortable. Lottie was intensively monitored and fortunately responded to our treatment.
Lottie was stable enough to be anaesthetised the following day, and x-rays confirmed that Lottie had sustained injuries to her pelvis.  We needed to investigate surgically on both sides and planned to stabilise the pelvis where possible with internal implants. Whilst Lottie was under anaesthetic we also placed a urinary catheter into her bladder, so she could comfortably pass urine. She continued on three types of strong pain relief, in the form of a continuous dose of medication, which prevents animals becoming painful again before they are due their next dose of pain relief.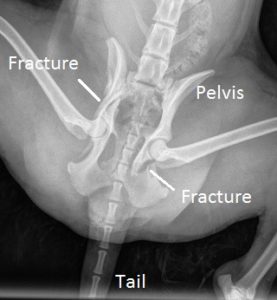 The surgery to repair Lottie's pelvis was performed by Dr John Mather at our Torquay surgery and lasted over 5 hours. Because both injuries extended to the back end of the pelvis John had to remove the top part of her thigh bone on each side to expose the pelvis, which is then repaired at the end of the operation. On the left side of the pelvis we found that the fracture was extremely close to a major nerve that supplies a lot of the hind limb with sensation and movement. We suspected this was likely the reason Lottie was painful. The fracture was too far back for a plate, which is the preferred method of fixing.  On the right side the fracture was more central in the pelvis and this allowed John to place a large plate running the length of the pelvis.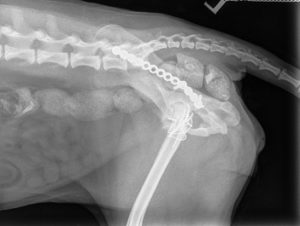 Lottie recovered very well; we kept her in for two days to monitor limb usage, recovery and administer pain relief. Lottie went home already trying to walk on her back legs – a big improvement from when she was admitted. She spent the next 6 weeks on strict cage rest, with her dedicated owners helping her out to the toilet with a towel sling.  Repeat x-rays showed good healing, and Lottie has continued to improve in terms of her mobility.  There is still evidence of nerve damage, but Lottie is now undergoing physiotherapy to get as much function back as possible.
Lottie has been a pleasure to treat, and continued to be happy to see us despite what she had been through.  We wish her and her owners all the best as they move forward, and hope that Lottie has learnt her lesson about not chasing birds!
Dr Samantha Pryor MRCVS, Vet at Greenbay Vets in Torquay and Paignton