UPDATE 8.4.20
There is now a dedicated page of our website for all COVID-19 information and updates – click here.
UPDATE 29.3.20
Thank you for your patience and understanding as we entered 'lockdown' last week. Our team are passionate about animal welfare, but we have had to make some big changes to the way we would normally work to protect public health. We believe the pet-human bond is especially important during this time of social isolation and we will help you as best we can.
THE MOST IMPORTANT THINGS FOR YOU TO KNOW ARE THAT WE ARE STILL WORKING, BUT PLEASE PHONE THE SURGERY BEFORE ATTENDING IN PERSON.
The government have published advice for animal owners which you can access here.
Below we have given you some more information about how we are working during 'lockdown':
Are you open as normal?
We are allowed to remain open, but we are keeping our doors closed to prevent unnecessary social contact. Our team has been split into smaller teams with some members working from home. This is to minimise their exposure to each other and to allow us to sub people in if we lose team members to self-isolation. Team members are currently present at both surgeries 9am-5pm on weekdays, Saturday morning at Torquay and Saturday afternoon at Paignton. Outside of these times there is always a duty vet and nurse available for emergencies – just phone us on 01803 606059. We continue to share the out-of-hours rota with Quarry House Vets, as we do normally.
What if my pet is ill or injured?
Please phone the surgery on 01803 606059 (Torquay) or 843836 (Paignton). Please tell us if you currently have symptoms of Covid-19 or are self-isolating or shielding. The vet may initially do a telephone or video consultation; our regulatory body has temporarily allowed us to prescribe medication remotely, which we aren't usually allowed to do. If we need to examine your pet, we will arrange an appointment time. Please phone the surgery when you arrive – we will collect your pet from you, examine him/her in the surgery without you and then advise of our findings by phone. You will need to pay for any treatment by phone. We appreciate this is not the normal level of customer experience you would expect from us, but we hope you understand the need to practice social distancing as best we can.
What if my pet needs medication, including flea or worm treatment, or food?
We are currently receiving orders as normal, every working weekday. Please phone (or e-mail if non urgent), don't just turn up at the surgery like you might normally. Please give us at least 48hr notice and allow longer if medication will be posted. We can post most medications and are also offering local delivery. If urgent, or if you are passing the surgery on your daily walk, we can handover at the surgery – just arrange a time with a member of our team by phone. You will need to pay for your medication/food over the phone at the time of ordering.
What about routine treatments?
Routine treatments are being postponed during the 'lockdown' period, provided there is no short-term risk to your pet's health. This is in line with guidance from our regulatory body. Our vets will use their judgement on a case by case basis, and advice may change if 'lockdown' is continued beyond the current 3 weeks.
General advice for pet owners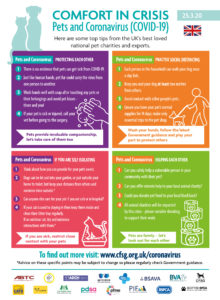 Advice for those walking someone else's dog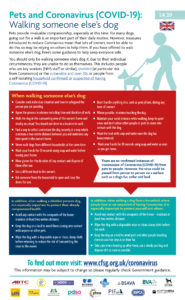 UPDATE 23.3.2020
Even prior to the government announcement this evening we had spent today putting in place new protocols to protect the health of the public. In a nutshell we are still here to look after your pets, but we cannot continue to work as we would do normally. Please phone the surgery on 01803 606059 (Torquay) or 843836 (Paignton) and we will advise you of what to do. For repeat medication requests please phone at least 48hr in advance of you running out.
13.3.2020
With the current situation regarding Covid-19 or Coronavirus we wanted to take the opportunity to reassure you of the precautions we are taking to protect our vulnerable clients and the public.
Please keep yourselves updated with the latest government advice: https://www.nhs.uk/conditions/coronavirus-covid-19/.
As a veterinary practice we already take hand hygiene and disinfection seriously, but have taken additional steps as follows:
We have hand sanitisers available in our waiting rooms and hand washing facilities in our consulting rooms. Please use these on entering the practice. It is also advised to wash your hands when you get home after going out.
We have increased the frequency with which we are disinfecting contact points e.g. card machines, door handles, keyboards and telephones.
To minimise the risk of spread to everyone we kindly ask the following of our clients:
If possible, we ask that pets are brought in with only one person.
If you are self-isolating due to advice or because you are showing signs of Coronavirus we ask that you re-schedule your appointment if it is non-urgent, or ask a friend to bring your pet in if urgent care is required. Call the practice on 01803 606059 (Torquay) or 843836 (Paignton) for advice – we will endeavour to help with getting your pet's medications to you, or helping via a telephone/video consultation with a veterinary surgeon if appropriate.
Please do not be offended if we don't shake your hands for the time being.
If you would prefer to wait in the car, rather than the waiting room, and be called in for your appointment just let us know.
We have made the decision to postpone 'puppy parties' for now, to avoid having a waiting room full of people in close contact. Instead, our lovely Laura H will be doing free individual 1:1 sessions with puppies to give you the same advice and to get the puppy used to coming into the surgery.
We know that some of our clients are in vulnerable risk categories, and may not have anybody who can bring their pet in for them. If you are worried about coming into the surgery in person, please let us know by phone – our lovely team have been brainstorming and have come up with many ideas for how we can help:
Arranging an appointment time outside of normal consulting blocks.
Telephone consultations with a vet, if appropriate. If your pet does need an examination, which is often the case with an unwell pet to be honest, we can take the pet into the surgery while you wait in the car, or help with transportation of the pet into the surgery.
We can help with delivery of medications/food to your home.
We can take payment by card over the phone, or by internet transfer, to avoid you waiting at reception.
Coronavirus: are pets at risk?
There is currently no evidence that pets can catch the disease, or that they can transmit Covid-19 between humans. This situation is being monitored.
It is always a good idea to be hygienic around animals, as there are other diseases that can be passed between humans and animals. Wash your hands regularly, clean your pet's bed regularly and avoid letting them lick your face.
We are closely following advice from the government and our governing body and will update this post if required. In the meantime our thoughts go to all those affected by the virus.