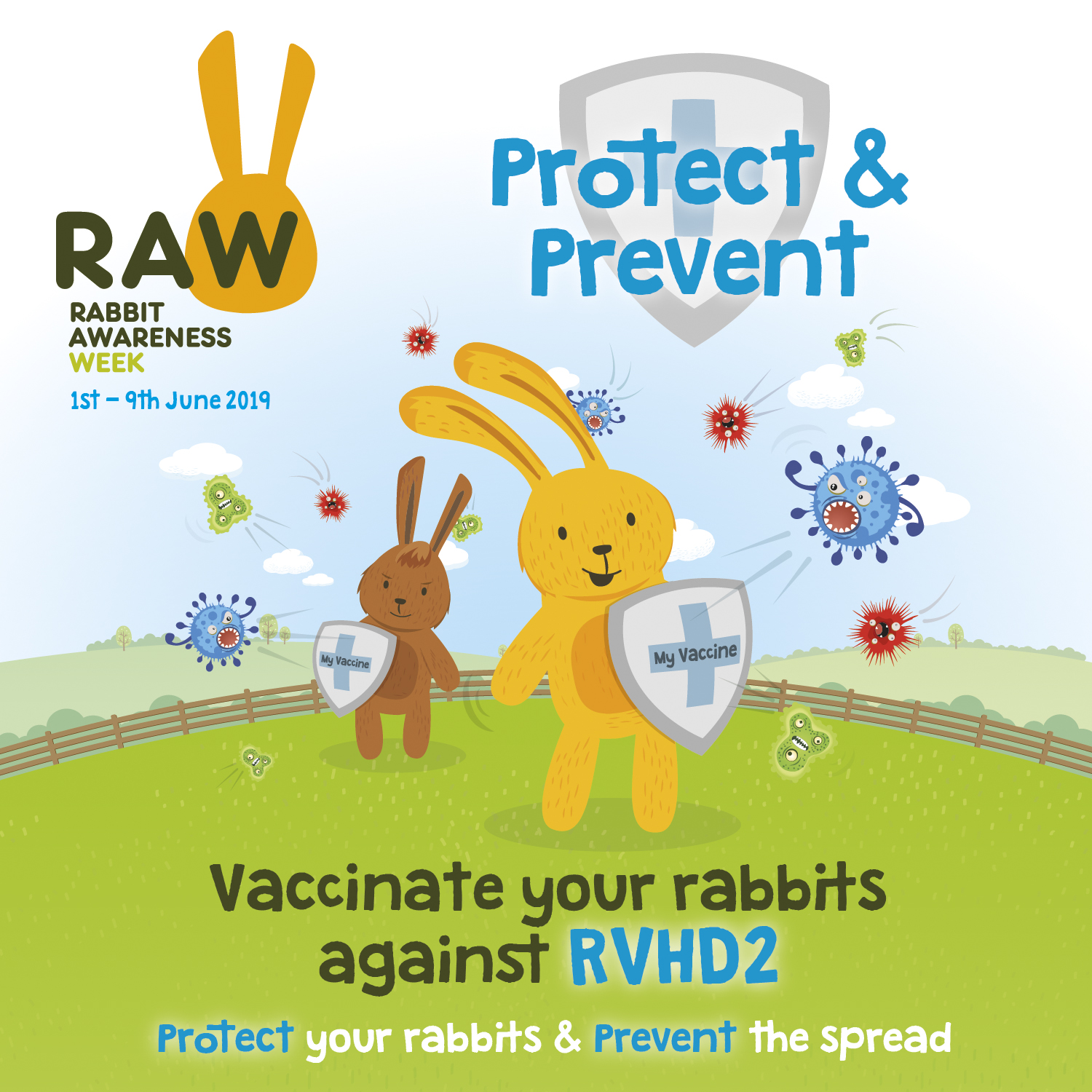 Greenbay Vets is supporting Rabbit Awareness Week 2019
Rabbit Awareness Week (RAW) is 1st-9th June. This year's RAW campaign, organised by Burgess Pet Care, is raising awareness around Rabbit Viral Haemorrhagic Disease 2 (RVHD2). Many pet rabbits in the UK are not vaccinated against this deadly disease and are therefore at risk. This year the campaigners are asking all rabbit owners in the UK to make sure that their rabbits are vaccinated against this and other fatal diseases (Myxomatosis and RVHD1).
More about RVHD2
Rabbit Viral Haemorrhagic Disease 2 (RVHD2) is a new strain of the virus RVHD1. Cases of the disease were first reported in the UK in 2015. As with RVHD1 the virus causes internal bleeding. RVHD2 often has no symptoms, meaning that it is very hard to spot early on.
The virus can be carried by birds and insects, the wind, and on the soles of shoes, not just from another infected rabbit. Therefore indoor rabbits are at risk, as well as outdoor rabbits, even if they do not meet any other rabbits.
There is no specific treatment available for RVHD2, and in most cases the disease is fatal.
Rabbit vaccination course
Rabbits should be vaccinated against Myxomatosis. This is a frequently fatal disease caused by a virus, which is common amongst the wild rabbit population. It is spread by biting insects and can affect both indoor and outdoor pet bunnies. Vaccination is given from 5 weeks of age, with an annual booster and health check then advised. Protection against the original strain of RVHD (RVHD-1) is included at the same time as the Myxomatosis vaccination. We can vaccinate against the new strain, RVHD-2, from 10 weeks of age. Currently this vaccine may be given at least 2 weeks apart from the Myxomatosis booster.
The full vaccination course costs £55 per rabbit and includes a health check and discussion of diet/husbandry. To book your rabbit in for a vaccination course and health check, give us a call on 01803 606059 (Torquay) or 01803 843836 (Paignton). Alternatively you can book online.
We are offering free rabbit health checks during June in support of RAW, ideal for if your bunny is already vaccinated or if you just want your rabbit checked and an opportunity to discuss vaccination further.
RAW is an annual event that brings together vets, pet retailers, welfare charities, manufacturers and consumers to raise awareness about rabbit welfare issues and to encourage responsible pet ownership. For the latest news and information on this year's RAW, visit http://www.rabbitawarenessweek.co.uk/.
You can also check out our rabbit fact sheet here.