May is Veterinary Nurse Awareness Month. During this month we celebrate and highlight the amazing work of our veterinary nurses.
At Greenbay Vets in Torquay and Paignton, we are proud to employ qualified Registered Veterinary Nurses and Student Veterinary Nurses enrolled in approved training programmes. The title veterinary nurse is not currently protected, but we believe it should be.
During May we have been sharing images which show the vital work our nursing team do:
Anaesthetic monitoring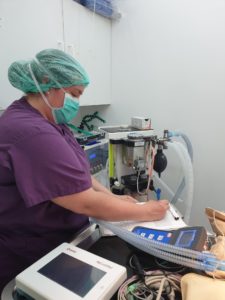 In this photo, our head nurse Caz is monitoring and recording a patient's anaesthetic depth, heart rate, breathing rate, temperature, blood pressure, oxygen and carbon dioxide levels and ECG (electrical activity of the heart). You can read more about what happens when your dog or cat has an anaesthetic here.
In patient care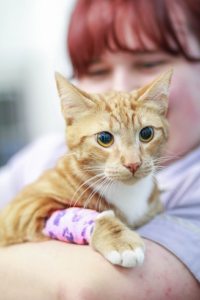 Our nurses monitor and look after hospitalised patients and those recovering from surgery. They can take blood samples and put patients on drips under the direction of a vet. They inform the vet of any changes, administer medications, nutrition and drips, and also make sure patients are comfortable, groomed and given cuddles.
Nurse clinics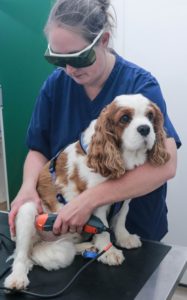 Our nurses perform a number of different nurse clinics, including dental checks, weight clinics, older pet screening, nail clips, grooming and some vaccinations. In this photo, Claire is administering therapeutic laser treatment to a patient post-surgery.
Scrub nurse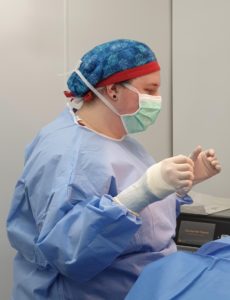 Our nurses regularly 'scrub in' to assist the veterinary surgeon with operations e.g. orthopaedic surgery. They help prepare the patient, and assist the surgeon by holding and passing instruments.
Our nurses also do a huge range of other important jobs including:
Assisting with ultrasound and endoscopic procedures.
Taking x-rays.
Dealing with pet owner queries in person and by phone.
Preparation of theatre and instruments for procedures.
Performing laboratory tests e.g. running blood samples, urine tests and looking at specimens under the microscope.
Auditing our procedures to make sure we are doing the best job possible.