The world of veterinary practice has changed dramatically since I first decided I wanted to be a vet over 20 years ago. Greenbay Vets is proud to be an independent veterinary practice, but what does this actually mean?
The Federation of Independent Veterinary Practices defines it as one in which the owners work within the practice and play a significant role in its day-to-day activities. Greenbay Vets is wholly owned by John and Laura Mather, both of whom work within the practice. Traditionally all veterinary practices were owned by individual vets, but over the past two decades this has changed dramatically.
Many veterinary practices are now owned wholly or in part by large corporate groups. Some are fairly obvious, for example the Vets4Pets franchise operating out of large pet-stores – these are run by joint venture partners who do have a significant stake in their particular business. Many practices, however, look like they always have done but have actually been sold to much bigger groups. CVS and IVC own hundreds of veterinary surgeries in the UK, including many of the practices in Torbay and the surrounding area. Many of the pet owners using these practices will be completely unaware that the practice is owned by a large corporate group, but it will be in the small print of their terms and conditions/their website and the staff will be honest if you ask. This is not restricted to the veterinary world, a similar thing has happened with opticians and dentists.
Being bought by a large corporate does allow the vets within a practice to concentrate on being vets, with many of the big business decisions taken out of their hands. A corporate purchase of a practice will often lead to a change of suppliers, as the corporate will have negotiated best terms with specific suppliers. This reduces the overheads on things like drugs, lab fees, waste fees etc., but these savings are not necessarily passed on to the pet owner. The larger corporates have expanded into areas such as pet food, online pet pharmacies and new graduate training.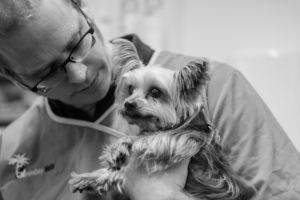 Why are we proud to be independent?
Clinical freedom – John and Laura have the freedom to stock the products we think are best for our patients/owners. These will not simply be the cheapest, although we always strive to choose products that we believe are good value to our pet owners. For example, we may choose one type of tablet over another because it is easy to divide and palatable making it easier to administer to pets. We also choose the lab that we send external samples too, again not the cheapest but the one we believe has the best vets working in it.
Supplier freedom – for example, we are proud to partner with a local pet crematorium, Meadow Wood, where we are confident pets are treated with the dignity they deserve and close to home. When a practice is bought by a corporate who has it's own crematorium, partnerships such as this are forced to end.
Our staff – we choose who we employ and we do not have to meet specific budgets for training expenditure. We support our staff to pursue their individual interests including further qualifications. Our vets do not have to meet financial targets – this is common place in corporate practices (and also some independent practices).
Choosing how we invest – we can choose how we invest in our practice. We do not have to consider any other share-holders or hedge-fund managers. We have invested hugely in equipment and refurbishments, something that would not have been possible for a practice of our size if it had been owned by a corporate. This is because we are passionate about offering the best pet care locally, and minimising the need for pets and owners to travel outside Torbay.
Choosing how we communicate with pet owners – we certainly don't have the marketing budget of a large corporate, so we do rely a lot on word of mouth and online reviews to reach new pet owners. You can however be confident that we write our own website news blog, social media posts and the newsletter e-mails we send to our pet owners so that we can try to keep news relevant to our customers.
The buck stops with us – if you are unhappy with us (which we endeavour to avoid), your complaint is taken direct to the owner.
With the increasing costs of buildings, student debt and difficulties obtaining finance making it difficult for younger vets to own their own practices, many practice owners have been unable to sell to anyone other than a corporate when they retire. We were very fortunate that the previous owner of Greenbay Vets, Joanna Turner, did not want to sell 'her baby' to a corporate and instead allowed us the opportunity to take on the care of her patients and loyal pet owner customer base.
Laura Mather MRCVS, owner of Greenbay Vets in Torquay and Paignton