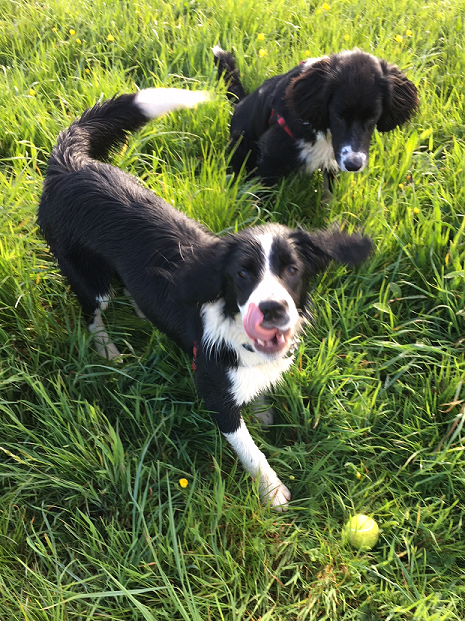 Benjie, a 6 month old Collie x Springer Spaniel came in to see us earlier this year.  It was clear straight away that he was very unwell, as rather than a bouncy pup greeting us Benjie looked very sad and subdued.  He had been vomiting, and was dehydrated with a painful tummy.
Blood tests were performed, followed by x-rays and an ultrasound scan of Benjie's tummy. The images confirmed there was something other than food in Benjie's stomach and intestine! What was more concerning, however, was that the bowel appeared to be dilated around the objects, suggesting it was obstructed.  Bowel obstruction can quickly be fatal if left untreated.
The decision was made to perform surgery on Benjie – an 'exploratory laparotomy' to establish what was going on.  This revealed several things in Benjie's stomach and bowel including bone, rags and electricians tape! Unfortunately the combined ingestion of these items had led to a line of material causing obstruction of Benjie's bowel and for the intestines to bunch up.  Veterinary surgeon, Dr John Mather, had to remove the material by making a hole in the stomach and two holes in the bowel.  This is major surgery, and not without complications as the holes in the bowel need to heal to prevent leakage of bowel contents, but without the operation Benjie would have died.
Benjie was going to have further bad luck.  A few days after his operation he started to become unwell again and tests confirmed he had peritonitis.  This is very severe and we were all worried for Benjie.  A further operation was required in which a piece of Benjie's bowel had to be removed, the abdomen flushed and a drain placed to remove the infected fluid.
Remarkably Benjie was able to go home after a few days stay with us and we are thrilled that he has made a complete recovery.  We just hope that he learns from his lesson and sticks to dog food only from now on!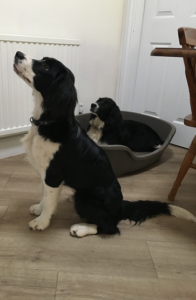 Dr Laura Mather MRCVS, Vet at Greenbay Vets in Paignton and Torquay