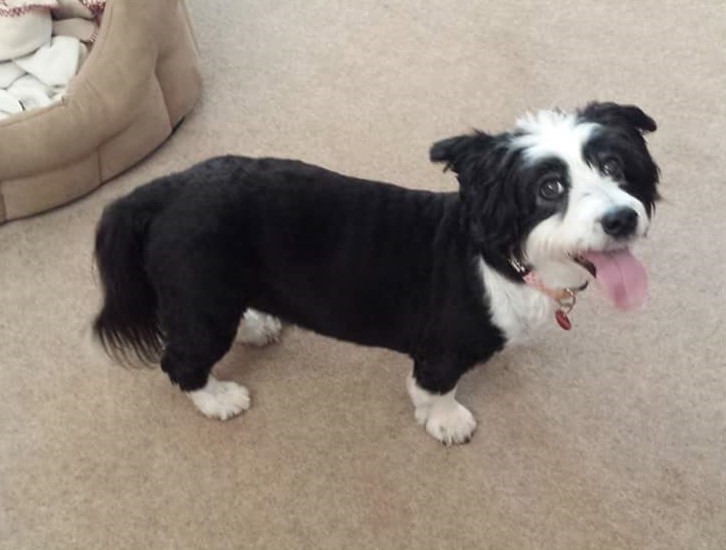 Mags is one of our many nurse weight loss clinic success stories.  Her owner's testimonial says it all really…
"My 13 year old collie/dachshund cross Mags got really poorly last year and was gaining a lot of weight and size. She lost all her joy in life, her eyes were blood shot, she was wheezing and struggling to breath and her arthritis was so bad due to the weight that she stopped wanting to go out.
"I thought there was something seriously wrong with her and took her to my previous vets who ran various tests and could find nothing.
I decided to change vets to Greenbay who immediately identified the problem was that she was overweight (my fault entirely, having changed her food I didn't read the instructions ). She had gone from 10 kilos in October 2015 to 15 kilos by February 2017!
So in February, 2017 Greenbay recommended Hills Metabolic Prescription diet food and there was no looking back. Mags loved it! She immediately started to lose weight and in no time was down to 11 kilos, no signs of arthritis, clear white eyes, no wheezing and generally one happy pup dying to get out to run after her ball again. It's knocked 5 years off her at least.
"In fact, I was so inspired by Mags and Hills Metabolic (if she can do it at her age then so can I) that in April I too joined a slimming club and as of today am half a pound off my target weight having lost nearly 2 and a half stones!
I can't thank Greenbay and Hills enough for giving me my lovely girl back. She's 14 this December and looking good!"
This testimonial was written last year, and we are pleased to report that Mags continues to do well.