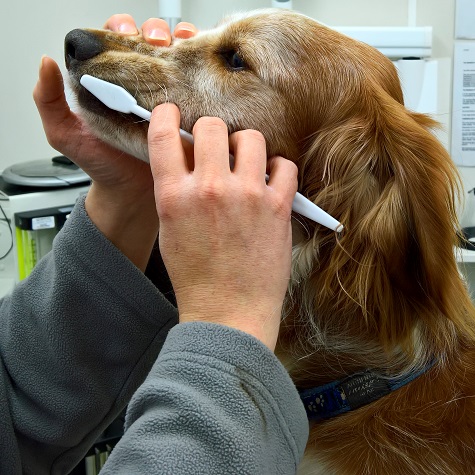 Dental disease is very common in pet cats and dogs.  We are passionate about preventing dental disease and offer free nurse dental clinics, where the nurse can check your pet's teeth and advise about dental hygiene including tooth brushing.
Like humans, when dogs and cats eat, plaque builds up on their teeth. Without adequate oral hygiene bacteria feed on the plaque causing gingivitis (sore, red gums) and bad breath. Over time this can progress to tartar, loosening of the tooth and pain.  Many dogs and cats will continue to eat despite severe tooth ache.
It is important that dogs and cats have their teeth checked regularly, as it is better to treat early.  By instigating good oral hygiene in your pet from a young age you may be able to prevent some of the cost of dental treatment later in their life. It can also be started following a dental procedure, once the gums have healed from any extractions.
Preventing dental disease
Just like humans, the gold standard is to brush your dog or cat's teeth daily with a special pet toothpaste to remove plaque. We can show you how to do this in our free nurse clinic.  You can also find videos on our website demonstrating brushing of teeth in dogs and cats.
If you can't brush your pet's teeth there are other options:
Use an oral rinse, designed to fight plaque with or without brushing.
Use a drinking water additive, designed to inhibit plaque build-up.
Use a special diet, designed specifically to prevent plaque build-up.
Our nursing team can advise and demonstrate how to use these products.
Our free nurse dental clinics
In these appointments the nurse will check your dog or cat's teeth and advise you on how to look after their dental health e.g. how to brush your pet's teeth.  If they are worried your pet's teeth are diseased, they may refer you to a vet for further treatment.
If the vet advises we perform a 'dental' on your pet, this means a professional clean and polish along with extractions of any severely diseased teeth.  We have to do this under a general anaesthetic.  Many owners are understandably concerned about their pet having an anaesthetic, but leaving dental disease untreated can cause your pet to be in pain.  Severe gum disease is even a risk to other organs, such as the heart, as bacteria enter the bloodstream. Dogs and cats cope very well with removal of diseased teeth, and are often noticeably happier once the source of pain has been removed.  You can read more about our dental procedures here.
Patients who have had dental treatment with us benefit from unlimited ongoing nurse clinics, with the aim of keeping the remaining teeth healthy and avoiding further treatment where possible.
To book your pet in for a free dental check with the nurse give us a call on 01803 606059 (Torquay) or 843836 (Paignton), or you can book online.