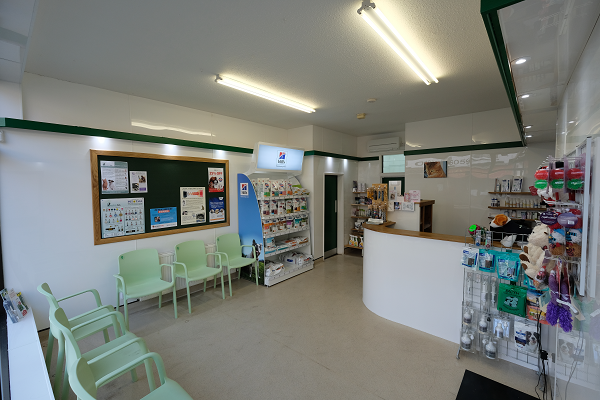 Those of you who have been in recently will likely have seen head nurse Cazandra's husband, Aaron, hard at work refurbishing our waiting and consulting rooms. Thank you for your co-operation if you have been in while the work has been taking place and huge thanks to Aaron who has frequently worked in the evening and at weekends to avoid disruption.
Since taking on Greenbay Vets in October 2014, John and Laura have been bringing the practice firmly into the 21st century, and we wanted to share the story so far with you…
Much of the work that has been done to the practice has been behind the scenes, but has enabled us to offer an excellent standard of treatment for your much loved pets without you having to travel outside of Torbay.
This work has included purchasing new equipment, including:
A modern ultrasound machine, allowing us to better diagnose problems in a pet's tummy or heart/chest.
A set of endoscopes and equipment to perform keyhole surgery.
A harmonic scalpel, which allows us to perform operations with less bleeding and less pain.
Lots of orthopaedic equipment, to enable John to perform advanced surgical procedures at our Torquay site.
Dental x-ray at both our Torquay and Paignton surgeries, to allow us to perform pet dentistry to the best standard.
New blood test machines and other laboratory equipment to allow us to run more tests at both our surgeries, and with quicker results.
New anaesthetic monitoring equipment and a ventilator, to make our pet anaesthetics as safe as possible.
A therapeutic laser.
A new phone and computer system. The latter enables us to offer bespoke reminders for your pet's vaccinations and flea treatment, and features such as online appointment booking.
We have fully refurbished the operating theatre at Torquay to enable us to provide as high a level of sterility and lighting as possible.  We created a second procedure/consulting room at Torquay.  This room can be completely darkened for ultrasound examinations and also gives us extra space for nurse clinics. We also refurbished our x-ray room and installed a 'floating table' to make taking x-rays more efficient.
As part of our application for Cat Friendly Clinic status, we created a separate room for cats to be hospitalised away from dogs at our Torquay surgery. This has made a big impact reducing stress in our feline patients.
The refurbishment of our waiting rooms is nearing completion, and we hope these spaces will now feel more welcoming for both you and your pets.  At both locations, cats can now wait in 'pods' behind reception so they don't have to see any dogs that are waiting or risk their basket being sniffed by a big wet nose!  Our consulting rooms have also been having a make-over.
Our Paignton operating theatre has been upgraded, and we have installed a special plastic wall material throughout both buildings, to ensure high levels of cleanliness can be easily maintained.
We have just had air-conditioning installed at both our Torquay and Paignton surgeries to make your visit more pleasant in the summer months, and to keep our patients more comfortable.
We hope to have an 'open day' in 2018, but if you want to have a look around before then just let us know. One of our team, Caitlin, has also updated our photo galleries so you can peek behind the scenes from the comfort of your own home! You can see images of the Torquay surgery here and the Paignton surgery here.
We have not finished yet…
We are creating a small 'exotics' ward upstairs at Torquay so that we can hospitalise rabbits, small pets and even reptiles away from dogs and cats and in a suitable environment for their specific requirements.
We are refurbishing the kennels at our Paignton surgery to allow more natural light in.
We will continue to invest in the latest veterinary diagnostic and treatment modalities in order to provide gold standard care to your pets.
As you can see, as we pass our '3rd birthday' with the new owners, much has changed at Greenbay Vets, but one thing we have always tried to maintain is the friendly and compassionate service you will get from a small, family-run team of staff.  Unlike many vet practices these days we are not owned by a large corporate group, so we are free to make the decisions we feel are best for our patients, clients and staff.  We have a fantastic team, who have embraced the changes we have made and continue to excel at what they do best – looking after pets, and their owners.
We look forward to continuing to look after your pets in 2018!