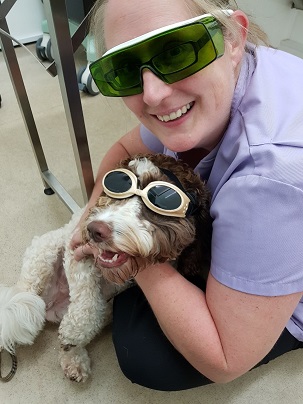 Always keen to be able to offer the latest treatments to our patients we are excited that we can now offer therapeutic laser treatments at our Torquay surgery. Our new ASA laser therapy unit is useful in treating many of the conditions we see every day in our patients.
In humans, laser treatments have been used for many years on sports injuries, arthritic joints, and for back and neck pain.
The following is a list of some of the common conditions we see where our new ASA laser can help:
Arthritis in dogs and cats
Back pain
Stomatitis in cats (painful inflammation of the gums and tissues in the mouth)
Infected wounds
Surgical wounds
Non-healing wounds
You can read more about how laser treatment works here.
Call us on 01803 606059 for more information or to book an appointment with a vet to discuss the potential benefits to your pet.  You can also book an appointment with the vet online.  Once a treatment programme has been approved by a vet, our nursing team deliver the laser treatments via our nursing clinics.