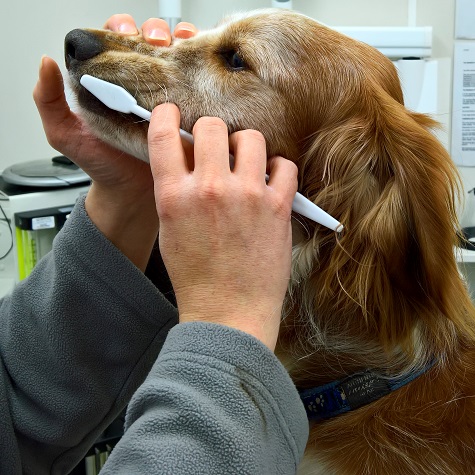 With fantastic input from one of the newest members of our team, Veterinary Nurse Zoe, we recently extended the nurse clinics available to our clients.  As a result many pets and owners have been benefiting and we felt it was time for an update…
Dental Clinics
In these appointments the nurse will check your dog or cat's teeth and advise you on how to look after their dental health e.g. how to brush your pet's teeth.  If they are worried your pet's teeth are diseased, they may refer you to a vet for further treatment.  Patients who have had dental treatment with us benefit from unlimited ongoing nurse clinics, with the aim of keeping the remaining teeth healthy and avoiding further treatment where possible.  For more advice about dental disease check out our fact sheet.
Weight Clinics
These continue to be very successful.  Lots of our pets gradually creep up in the weight bracket year on year and this excess weight can lead to reluctance to exercise and be detrimental to their health.  Joint issues, cystitis, and diabetes are all more common in overweight pets.
At Greenbay Vets we offer free weight clinics with our nurses who can analyse your pet's diet and suggest areas to focus on. We have a range of special diet foods, which can be purchased on a loyalty scheme with rewards.  We have had success with many of our patients – Zara, a chocolate Labrador, is one example.  Zara unfortunately has arthritis in many joints.  She had been slowing down on her walks and had started to gain some pounds. Her owners were very keen to trim her down so we started her on a fantastic diet food which is low calorie but also boosts her fat burning capabilities. This is a prescription diet but we can offer a palatability guarantee so if you try it but your pet won't eat it we will give you a full refund. Zara has lost 5kgs and now exercises as she did before we diagnosed the arthritis, she is a lot more playful and consequently will do more exercise on her walks now helping keep her trim figure! Not only has she reduced the risks of the diseases above but her arthritis symptoms have improved dramatically!  Well done Zara!
Arthritis and Mobility Clinics
These are largely designed for the growing population of older pets who we are treating for arthritis.  As well as seeing the vet for medication checks, our patients can benefit from interim assessments with one of our nurses.  At these clinics their pain and mobility can be scored, so we can ensure any medication or exercise regime is working for the pet.  The nurses can also advise about diet and joint supplements.
Geriatric Clinics
We are passionate about looking after our older patients. These clinics are a great opportunity to go into senior pet health care in detail, as they last 45 minutes.  The Nurse will ask you lots of questions about your pet's habits, which can highlight problems such as dementia and arthritis at an early stage.  They can also include blood tests, a blood pressure check and testing of a urine sample at a discounted cost, providing a great value way to check the health of your older companion.  These screening tests can be evaluated by a Vet, who can use them to pick up diseases such as kidney disease or diabetes even if your pet is not showing obvious symptoms; this is particularly helpful in cats, who are masters of disguise when it comes to illness.
Please ask at reception for more information about any of our nurse clinics.
To book an appointment with the nurse at Torquay or Paignton give us a call or book online.