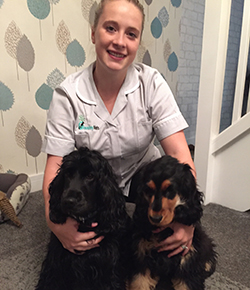 Most pet owners are familiar with the role of the vet, but who else is in your veterinary team and what do all those letters stand for?
The title 'Veterinary Surgeon' is protected by law, and all UK vets will have their university degree qualifications and the letters MRCVS after their name. MRCVS stands for Member of the Royal College of Veterinary Surgeons.  Vets must keep up to date by doing a minimum amount of continuing professional development (CPD).  At Greenbay Vets we fund and encourage CPD, so that our vets can go beyond this minimum level and strive to bring the latest pet health developments to our patients.  For example, vet Samantha Pryor is doing her certificate in Small Animal Surgery, and vet Katie Codling recently attended an international feline medicine congress.
An 'RCVS Advanced Practitioner' is a vet who has achieved an advanced qualification at certificate level in a specific field.  They also need to demonstrate their knowledge and experience in their chosen area and confirm that they go over and above the minimum CPD requirements.  One of our practice owners, John Mather, is an Advanced Practitioner in Small Animal Surgery.
An 'RCVS Specialist' is a vet who holds a postgraduate certificate at diploma level and makes an active contribution to their speciality e.g. publishing papers.  We will occasionally advise referral to an RCVS Specialist if your pet requires it.
The term 'Veterinary Nurse' is sadly not yet protected by law, but it should be reserved for those that have completed an approved veterinary nurse training course and are registered with the RCVS. The letters RVN after a name mean you can be assured you are dealing with a Registered Veterinary Nurse.  Our RVNs are an integral part of our team.  You will meet them on reception and in nurse clinics.  They are the ones that monitor pets while under anaesthesia for the veterinary surgeon and do much of the in-patient care as well as processing lab samples and helping the vets during consults.  It is not always a glamorous job, with much cleaning up along the way, but they are truly invaluable to the working of a good veterinary practice.  Our RVNs are Cazandra, Claire and Zoe and can be recognised by their lilac uniforms.
RVNs need to undertake CPD, just like vets.  At Greenbay Vets we encourage our nurses to go well beyond the minimum requirements. Our head nurse, Cazandra, is enrolled at Harper Adams University to study for her Diploma in Advanced Veterinary Nursing, and our cat advocate, Claire, is enrolled for her Diploma in Feline Nursing.
Student veterinary nurses spend much of their week working with us, and then spend a day a week at college.  Our student veterinary nurses wear lilac and white striped tunics.  One of our students, Steph, has recently passed her final exams and the other, Laura Sproul, is in her second year of training.
Other team members include receptionists and animal nursing assistants who help with animal handling, in patient care and cleaning.  Laura Holderness started out with us as a receptionist, but is now also an animal nursing assistant with a view to start nurse training in the future.  Our animal nursing assistant uniform is grey and white stripes.  All of our nursing team spend time on reception, which means they are readily available to advise clients by phone and in person.
Many larger practices will also have office staff and/or a practice manager doing important work behind the scenes to keep things running smoothly.  At Greenbay, practice owners John and Laura Mather, along with our Head Nurse Cazandra do this work.  Laura is also a veterinary surgeon and you may meet her if your pet needs an ultrasound scan or has medical or heart problems.
You can find out more about our team members here.