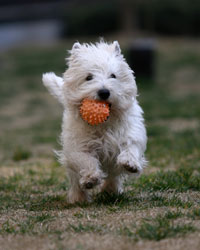 With fantastic input from one of the newest members of our team, Veterinary Nurse Zoe, we have recently extended the nurse clinics available to our clients.
We are most excited about our new Geriatric Clinics, as we are passionate about looking after our older patients. These clinics are a great opportunity to go into senior pet health care in detail, as they last 45 minutes.  The Nurse will ask you lots of questions about your pet's habits, which can highlight problems such as dementia and arthritis at an early stage.  They can also include blood tests, a blood pressure check and testing of a urine sample at a discounted cost as part of a Geriatric Clinic package.  These screening tests can be evaluated by a Vet, who can use them to pick up diseases such as kidney disease or diabetes even if your pet is not showing obvious symptoms; this is particularly helpful in cats, who are masters of disguise when it comes to illness!
Prices start from £31.50 for the consultation and a blood pressure/urine screen for your pet, and from £65 to include blood tests. It is recommended to start annual health screening in all cats over the age of 7, as they are so good at hiding signs of illness.  An earlier diagnosis can make a big difference to the quantity and quality of your pet's life.
We also still run our popular FREE dental checks and weight clinics, and the nursing team are now becoming more involved in checking the progress of our patients with long-term diseases such as arthritis and diabetes.
Please ask at reception for more information.  To book an appointment phone the surgery on 01803 606059 or book online.