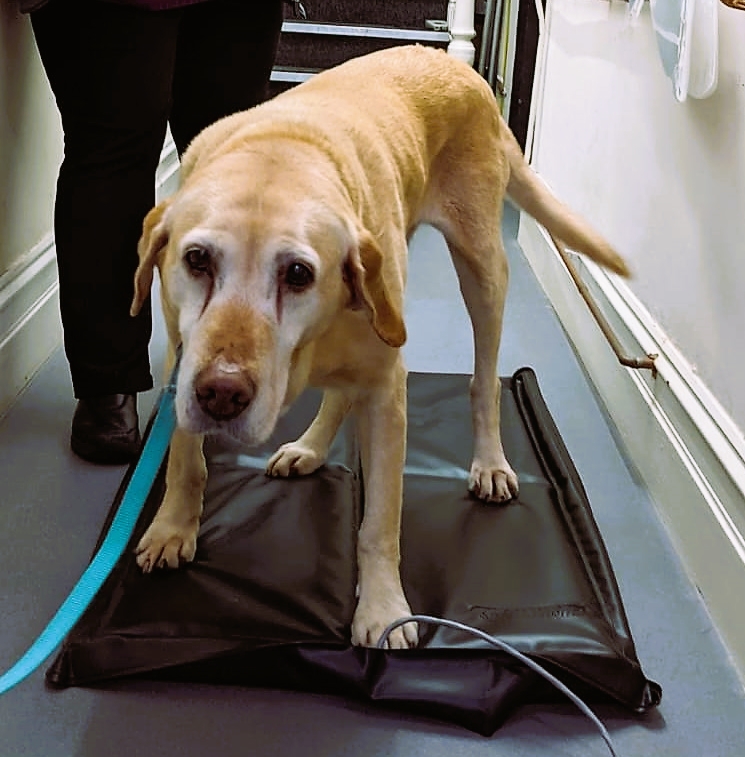 Osteoarthritis is the most common cause of chronic pain in dogs, affecting 4 out of 5 older dogs.
Signs can be subtle, but may include:
Different behaviours including depression and sleeping more
Difficulty getting comfortable including pacing at night
Weak back legs, which can cause difficulty going to the toilet
Lameness and/or an unwillingness to go on walks
Licking joints
Managing arthritis
Identifying when your dog is in pain. We can help you with this e.g. through the use of questionnaires and nurse mobility clinics. By knowing what to look for, you can see what is helping your dog. In 2021 we invested in a great new piece of kit called a stance analyser – which can objectively determine how much weight a dog is putting through each of their legs.
Weight management. Being overweight will exacerbate arthritis. We can help you to get your dog to a healthy weight with our free nurse weight clinics.
Home environment adaptions e.g. use of non-slip surfaces, or upgrading your dog's bed.
Exercise. You may need to make changes to your dog's normal exercise routines e.g. repetitive ball chasing, even if they appear to enjoy it, may be doing more harm than good. We can help you.
Diet and supplements.  Hills has performed controlled clinical trials on their mobility diet JD and reported that it not only reduced the clinical signs of arthritis, scored by vets, it also reduced the dose of anti-inflammatory needed by the dogs.  There are a huge range of nutraceutical supplements out there, which we can advise on.
Medication – many dogs benefit from being on pain-killing and/or anti-inflammatory drugs, which are prescribed by a vet.
Regenerative medicine – we are pleased to be able to offer platelet rich plasma and stem cell treatment at our Torquay surgery – you can read more here.
Complementary therapies. This can include physiotherapy, hydrotherapy, acupuncture and laser therapy. Our vets will be able to advise you about what may be beneficial to your dog.
Our stance analyser can be used to monitor the effectiveness of treatment, which along with questionnaires/owner feedback can help us to tailor the best treatment to each patient.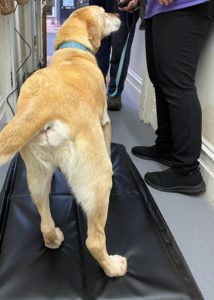 You can find out more about arthritis in dogs on this fantastic website – Canine Arthritis Management.
If you are concerned your dog has arthritis, the first step is to book an appointment with one of our vets. Once a diagnosis has been confirmed, the vet will advise on the best course of action. Often, anti-inflammatory medications are used to help control the pain of arthritis, but these are only one part of the solution. The best results are seen when the disease is tackled in multiple ways.
To book your dog in for an appointment give us a call on 01803 606059 (Torquay) or 843836 (Paignton), or book online.
Thank you to Merlin's owners for letting us share his pictures.