Wilson is an 11 year old Golden Retriever who we saw a lot of earlier this year.
Wilson came in to us after his owners had found a few lumps on him, which they sensibly wanted checking out. The most concerning lump was one in his elbow area. Wilson came in for a general anaesthetic to have a biopsy taken of the mass; x-rays were also taken of the elbow, which showed that the bone was not involved.
The biopsy results came back, and the mass was diagnosed as a soft tissue sarcoma. This is a cancer of the tissues beneath the skin. Although this type of tumour rarely spreads elsewhere in the body, they are very difficult to completely remove and as they continue to grow they can cause a problem due their size causing discomfort and difficulty for the patient.
To remove a sarcoma in the elbow location is not straightforward, especially as relatively wide margins of normal tissue around the tumour need to be removed as well. Wilson's owners elected to go ahead with surgery, and he came in for an operation performed by RCVS Advanced Practitioner in surgery, John. The operation took several hours, and assistance from several of our team (Jemma, Claire and Laura H). Once the tumour was removed, there was not enough skin to simply close up the hole, so John performed a skin flap. In this case skin was elevated from Wilson's chest and rotated to close the hole over the elbow. Wilson stayed in after the procedure for pain relief, rest and laser therapy.
Unfortunately one of the complications of skin flaps is that part of the flap can die off, and this happened with Wilson's flap. He was left with a large wound, which healed through a combination of rest and pain relief, a pet shirt to cover the area, regular dressing changes, laser therapy and very dedicated owners! It was a long road to recovery for Wilson, but he was a super patient and his wound eventually healed completely. As nurse Laura H says "If he wasn't as well behaved and brave as he was, I don't think his wound would have healed the way it did".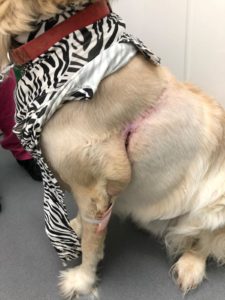 Well done Wilson for being so brave 🙂