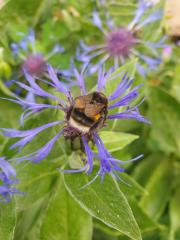 One of the owners of Greenbay Vets, Laura Mather, has always had a keen interest in conservation and especially British bees and butterflies. She can often be found crouched in the grass trying to identify a species for a local survey!
Last year we joined the British Bee Veterinary Association and became a 'Bee Friendly Veterinary Practice'.
As you may be aware, bee populations are declining significantly around the world. This is a serious problem for each of us, as bees help to carry out the pollination that is so vital in producing many of the foods we eat every day. The British Bee Veterinary Association exists to promote awareness and education in the science of bee health, evidence-based medicine and management.
Did you know the UK has one native species of honeybee, 24 species of Bumblebee and 225 species of solitary bee?
The Bee Friendly Veterinary Practice scheme is a simple one – a national programme encouraging veterinary practices to plant flowers that will attract bees.
If you have a garden, or space for a window box/some pots, you can also help bees by planting flowers such as the following:
• Snowdrops
• Crocus
• Borage
• Phacelia
• Marjoram
• Thyme
• Lavender
• Cornflower
• Cosmos
• Fuchsia
If you are a beekeeper yourself, or know somebody that is, the British Bee Veterinary Association website has a lot of useful information about bee health.