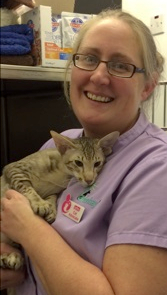 Congratulations to Registered Veterinary Nurse Claire, who has passed her ISFM Diploma in Feline Nursing.
Claire qualified as a veterinary nurse in 2005 and is passionate about cats! She is our practice 'cat advocate', so her mission is to make the practice 'feline-friendly' and to be a point of contact for clients who have any queries about how we achieve this. She has two rescue cats of her own, William ('The Boy') and Gracie Lou.
The diploma covers the following areas:
Feline anaesthesia and analgesia (pain relief)
Feline infectious disease
Non-infectious diseases: covering diseases of the major organ systems
Feline behavioural health and wellbeing: stress and the effect on disease, behavioural problems and how to tackle them
Feline reproduction
The feline expert veterinary nurse: running successful nursing clinics and the role of the nurse in feline life stage care and disease
We are very proud that both our Torquay vets and Paignton vets surgeries are ISFM Accredited Cat Friendly Clinics.