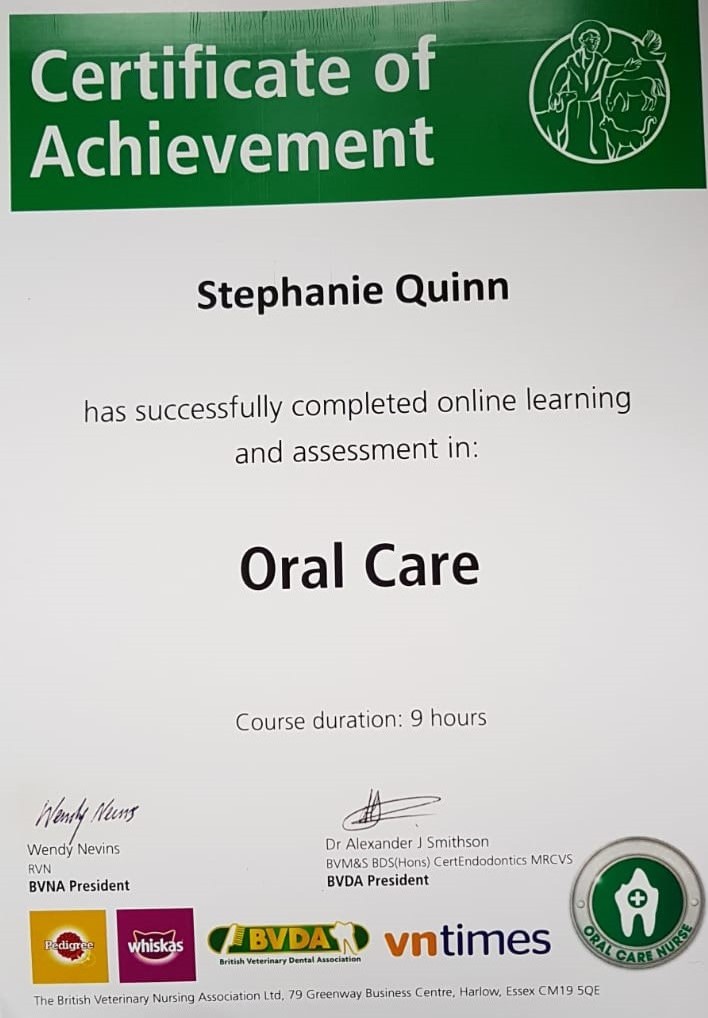 One of our Registered Veterinary Nurse's, Steph, has a particular interest in pet dentistry and is passionate about keeping our pet's mouths healthy!
She has recently completed further training and passed her Oral Care Nurse Certificate to become our dedicated Oral Care Nurse.  The course, produced by the British Veterinary Dental Association and The British Veterinary Nursing Association aims to provide veterinary nurses with the knowledge and skills to deliver effective oral care clinics, drive awareness of oral health and identify pets that are in need of oral care attention
At Greenbay Vets we are pleased to offer free dental checks for dogs and cats with our nursing team. In these appointments the Nurse will check your dog or cat's teeth and advise you on how to look after their dental health e.g. how to brush your pet's teeth.  If they are worried your pet's teeth are diseased, they may refer you to a Vet for further treatment.  We also offer unlimited follow up nurse checks after your pet has had dental treatment, with the aim of keeping the remaining teeth as healthy as possible.
To book an appointment with a nurse, give us a call on 01803 606059 (Torquay) or 843836 (Paignton), or book online.