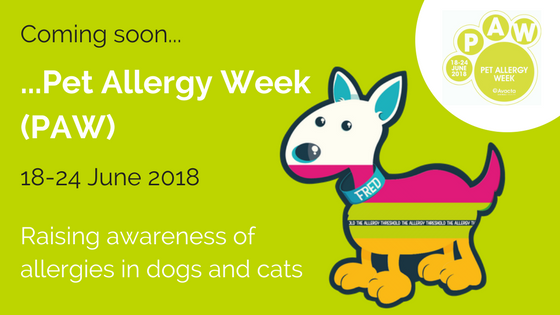 Coming soon….Pet Allergy Week (PAW)!
Our practice will be taking part in Pet Allergy Week from 18th June to 24th June.  Come and visit us during this time to get a greater understanding of allergies in dogs and cats.
The theme for PAW 2018 is 'The Allergy Threshold' which is the point at which symptoms associated with allergy appear e.g. itching, tummy upsets and wheezing.
You will be introduced to Fred the Dog, his allergies, his symptoms and the best solutions to help him long-term. This will be done through a combination of in-practice and online content including:
A waiting room display
Client leaflets
Website articles
Case studies
Social media (follow us on Facebook)
If you believe your dog or cat has an allergy we would advise booking an appointment with one of our vets. Finding out what your pet is allergic to through allergy testing may be part of the best solution.