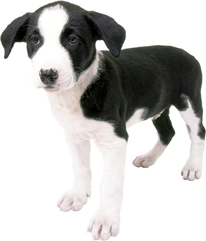 This week is Puppy Awareness Week (PAW).
This campaign is designed to raise awareness of the puppy farm industry, as sadly many people are buying puppies who are suffering from health and behavioural problems after being bred by puppy farmers.  These puppies are often bred in unhygienic conditions with no regard for health-testing of puppy or parents.
PAW aims to help puppy buyers be aware of how to find a responsible breeder, and a healthy, happy puppy.
The Kennel Club operates an Assured Breeder Scheme, which is the only scheme in the UK that sets standards for and inspects dog breeders. Watch their video for advice on buying a puppy.
If you are thinking of getting a dog, or know somebody who is, take a look at our fact-sheet for advice first.  You are also welcome to speak to a member of our vet or nursing team, who will be happy to chat to you.