We know that many of our pet patients will be spoiled this Christmas! We have a small selection of Christmas toys for dogs and cats for sale at both our surgeries. We also have a great new stock of Boots and Bones locally handmade dog collars and leads.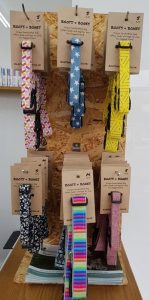 Please be careful when it comes to overindulging your pet with human food this festive period. Unfortunately a sudden change in diet or a big meal of rich food can cause a nasty tummy upset.  In particular you should avoid feeding your pet:
Chocolate
Grapevine fruits (grapes, raisins, sultanas, currants) – u

nfortunately Christmas cake, mince pies and Christmas pudding can be very tempting to our canine friends!  Ingestion can cause vomiting and diarrhoea and more serious effects such as kidney failure.  Even a small amount can be toxic, so contact us for advice if your dog has eaten any of these fruits.

Fatty foods or table scraps, such as turkey skin or pan drippings, gravy, bacon or sausages. Too much fat can cause a nasty problem called pancreatitis.
Bones from the turkey.  These small bones can perforate the food pipe (oesophagus), which can have serious consequences.
Onions.  Onion ingestion in dogs can cause anaemia (low red blood cell numbers).
Artificial sweetener (xylitol).  This can cause life threatening low blood sugar and liver problems in dogs.  Severe cases usually result from the ingestion of chewing gums, sweets and cakes baked with sugar substitute.
Nuts.  It is generally best to avoid giving nuts to your pet.  Macadamia nuts can cause particular problems in dogs.